Avast One Essential Review
Ranked #7 out of 14 Antivirus
It is a no-brainer that you must always choose antivirus software from trusted companies in the industry. Doing so helps ensure maximum value for money and avoid subpar privacy and security experience. The same logic applies to even free antivirus software, speaking of which, you would have encountered Avast, a popular option in this domain. It is one of the reputed brands to offer an unrestricted free antivirus program: Avast One Essential.
In this comprehensive review of Avast One Essential, you can find everything about this free-to-use antivirus suite. Most importantly, we will answer questions like whether you should use it on your devices, what you get and what you miss out on. Avast One Essential is available for PC, Android, MacOS, and iOS. But we have made our judgment largely based on the Windows version of the security suite. 
| | |
| --- | --- |
| 🐞 Malware detection rate | 100% |
| ⚔️ Advanced threat protection | Yes |
| 🔥 Firewall | Yes |
| 🌐 VPN | Yes(Limited) |
| Free Version | Yes |
| 💵 Pricing | Free |
| 💻 Operating Systems | Windows, Mac, Android, iOS |
Pros and Cons
Pros
Easy-to-use and illustrative User Interface

Holistic protection for your devices

Many online privacy-focused features

Comes with a VPN service

Can speed up your PC

Straightforward pricing 

Built-in protection against threats
Cons
Limited security options

Limited network protection features

Occasional pop-ups to buy the paid version

VPN lets you access only one virtual location
Avast One Essential: An Introduction
You may be aware that Avast develops various software products. Some of them are security tools, while others improve your privacy. You can also find utilities to improve the performance of your devices. Avast offers free and premium products in the catalog to make things convenient for customers. Avast One Essential is the free version of their security suite. 
You can use the app to protect your computer and other devices from various online threats. One Essential is also among the very few 100% free reputed security programs available in the market. Let's cover some basics about the free antivirus first. As I mentioned earlier, Avast One Essential is available for Windows, MacOS, iOS, and Android. However, we shall talk about the Windows version here. It would be best if you had a PC running Windows 7 or later to use it. 
The system must have a minimum RAM of 1 GB, but 8 GB is recommended. The security suite also needs 2 GB of free storage space to work in its full-fledged form. When translating these specs, it becomes clear that you can use One Essential on most PCs and laptops out there. Now that you know what it takes to try Avast One Essential on your PC, we will share further insights about the security suite starting with its major security features.
Security Features of Avast One Essential
Avast One Essential is a holistic security suite with many security and privacy features. Here are some of the features that matter the most.
Avast One Essential offers a rather exhaustive set of anti-malware protection features. Unlike some other free security apps, it does not hold back on protection against specific malware. For instance, the Avast One Essential anti-malware engine will protect your PC from viruses, trojans, rootkits, spyware, adware, and ransomware. 
Avast has also included anti-scam protection within the engine. Therefore, you do not have to worry about suspicious emails or social engineering attacks. The security suite can also warn you before you open a malicious website or web application.
You also get a Virtual Private Network (VPN) service with Avast One Essential. You can use this VPN service to browse the web with a great degree of anonymity. It is even more impressive that you get a bandwidth of up to 5 GB per week in the free version. You also get a couple of anti-tracking utilities to go with it. And you can enable all the features with a single click, like opening a private window on a web browser. 
When the VPN is combined with anti-tracking options, Avast One Essential can offer a highly secure experience for most people. But there's a catch – you can connect to only one virtual location using the VPN on the free version of this security suite. Though it limits its capabilities, it is still better than not having a VPN at all. And 5 GB a week is a fairly generous bandwidth for a free offering.
Another impressive feature of Avast One Essential is the system optimizer utility, which is included to help you speed up your computer or smartphone. This feature uses many techniques like junk cleaning, cache clearing, and software optimization to ensure stable performance on your device. It does so without impacting the security or privacy of the device. 
For instance, there is an option to put heavy apps in hibernation mode, which consumes fewer resources. We like this feature because even those afraid to install an antivirus on an older PC can use this feature to speed things up and experience Avast One Essential.
Data breaches have become common; you need something to protect your online life from such threats. Generally, finding and changing compromised passwords can be time-consuming. Hence, data breach protection from Avast One Essential is a great option for most people. You can sync one of your email accounts with this software, and it analyzes multiple data breach sources for potentially vulnerable credentials. Then, based on the report it provides, you can change your password and make other security-focused decisions. 
We are impressed with the features available in Avast One Essential. It is a rare deal to get more than just the basic antivirus protection in a free package. That you can stay secure from various online threats and potential vulnerabilities without paying anything is spectacular!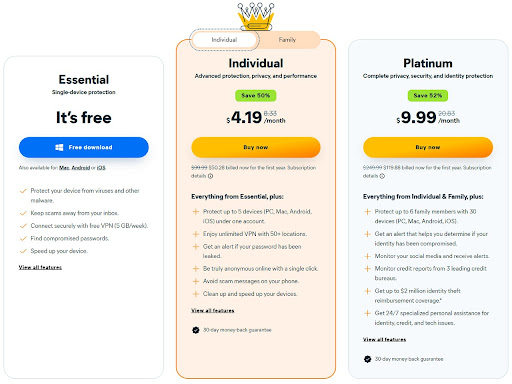 Installation & Ease of Use
You can download the installation file from the official website of Avast. The installation takes only a few minutes, and you can use the security features immediately. You don't even need to register or create an account, and can get started with a full-fledged system scan to begin with. 
Avast has taken a different approach regarding the User Interface this time. If you install Avast One Essential expecting the UI to be similar to what you have seen in past Avast products, you may find navigating a little difficult initially, but you will get used to it in no time. Overall, we found that Avast One Essential is optimized for beginners and average users. If you have tried advanced antivirus programs from other developers, you may find the UI too basic. 
However, considering that we are generally moving towards minimalist designs, the UI of Avast One Essential feels par for the course. From a usability perspective, we love what Avast has done with the UI design. Everything is clear and illustrative. For instance, you can run a Smart Scan from the main page, below which you can find many shortcuts to features like VPN, web shield, and ransomware protection. One doesn't need to go looking for those options deeper inside.
Performance
To understand the efficiency of Avast One Essential in protecting your device from different threats, we followed two layers of tests. First, we tested how the antivirus engine deals with a curated collection of sample threats. Second, we also double-checked the results with insights from reliable third-party testing platforms like AV-test.org.
In our hands-on experience, Avast One Essential could handle almost everything we threw at it. The system could identify the type of malware and quarantine the same as soon as possible. It was also successful in removing difficult-to-remove malware from the system. We also threw some confusing files at Avast One Essential, which handled them gracefully. The system effectively tells actual malware apart from apps and files that look like malware but aren't.
The message is similar when we consider the insights from AV-test.org. Regarding security from zero-day and common threats, Avast One Essential maintains an average detection rate of 100%. This number is higher than the industry average of around 99.4% for quality antivirus products. It scores well in the performance aspect as well. The antivirus engine does not slow down regular tasks or download speeds.
Overall, the anti-malware protection algorithms of Avast One Essential are impressive for what you pay for, which is nothing. You get to enjoy best-in-class protection from threats, along with additional features like VPN and system cleaning.
Pricing Structure
The pricing plans for Avast One Essential are plain and simple. Avast One Essential, the core security suite, remains free of cost. You can access features like security and privacy improvements without paying anything. It also gives you a free VPN service with a weekly quota of 5 GB. However, you can connect to only one location. In the same way, you can use only one email to check whether there are compromised passwords.
If you want advanced features without limits, you can always go for the premium versions of the Avast security suite. For reference, Avast One Individual is available starting at $4.19 per month, whereas Avast Platinum would set you back at $9.99 every month. However, whether these plans are necessary for you is a question you can answer only after reviewing what they offer. We appreciate the transparency Avast maintains while describing the various pricing plans.
Verdict
What's Good About It?
pop-ups ask you to check out the premium features, these adverts do not interfere with the user experience like in their earlier free versions. For the most part, the program does a decent job of protecting your endpoint devices and digital life online. 
For instance, even though there is a one-account limit, it is good to check whether your primary email is involved in some data breach. Add to that a free VPN with a 5 GB per week bandwidth. So, as far as standard protection is the main objective, Avast One Essential does not disappoint.
What's Not So Good About It?
One major issue we found with Avast One Essential is that it claims to be a holistic security suite, though it offers only limited resources in the 'other' sections. For instance, the VPN service restricts the available virtual locations to just one. And, if you want to use the advanced features regularly, you need a premium subscription. We also found some imbalance in the number of features available across different platforms, especially Android and iOS.
Should You Buy Avast One Essential?
You should get this security suite if you have higher than usual expectations from a free antivirus suite. Avast One Essential can offer a real taste of the holistic protection the company promises to offer. For instance, a speed-up tool for your PC is a step we have yet to see with other products. In this way, Avast One Essential can offer a unique experience and is a great option for free.
What Are the Alternatives to Avast One Essential?
It is not like Avast One Essential is the only free antivirus software available in the market. There are 100% free antivirus options from other developers too. Some options include Bitdefender Antivirus Free and AVG Antivirus Free. However, these tools do not offer as many extra features in their free variants as Avast One Essential does.
Check out other Antivirus Reviews
Trending Cybersecurity Reads