AVG Free Antivirus Review
Ranked #9 out of 14 Antivirus
Computers have provided a safe space for humans for decades. It has revolutionized privacy and dependability, proving to be a trusted companion and harbinger of development. However, what happens when your safe space is no longer safe? Computer viruses and malware are an evil that accompanied the development of modern computer devices, an evil we could very much do without. 
In comes counter-malware programs – antiviruses. In the grand scheme of things, having a proper antivirus software could be the difference between secure computer usage and some VERY bad situations. This review is geared towards helping you in your choice of an antivirus. To that end, let us consider one of the highest-ranked free ones out there – AVG Free Antivirus.
| | |
| --- | --- |
| 🐞 Malware detection rate | 99% |
| ⚔️ Advanced threat protection | Yes |
| 🔥 Firewall | Yes |
| 🌐 VPN | No |
| Free Version | Yes |
| 💵 Pricing | Free |
| 💻 Operating Systems | Windows, Mac, Android, iOS |
Pros and Cons
Pros
High malware detection rate.
Advanced threat protection and firewall.
Top billings in industry ratings.
Automatic updates and new features in one subscription.
Paid option for remote access protection and other extra features.
Cons
No VPN option available.
Expensive options for upgrading to a paid package.
Product Introduction
The introduction acknowledged the standing of AVG as one of the highest-rated antivirus software in the industry. This ranking does not come lightly, as it follows years of experience and development in cybersecurity trends by AVG Technologies, the brains behind the product founded all the way back in 1991. You should not be surprised to see it linked with Avast though, considering that the company acquired AVG Technologies in 2017.
The AVG Free Antivirus is fully updated and optimized for use in 2023. While the version may not reflect in the name, the software is designed to bear every update that may be made at any time, without worrying about downloading the next annual version. The system requirements of the antivirus are nothing over the top. It requires a minimum RAM specification of 1GB and 2GB in minimum disk space. You would also need a standard screen resolution of 1024 x 768 pixels. 
AVG Free Antivirus can run on Windows 11 except Mixed Reality and IoT Editions, Windows 10 except Mobile and IoT Editions (32 or 64-bit), Windows 8/8.1 except RT and Starter Editions (32 or 64-bit), and Windows 7 SP1 with Convenient Rollup Update, any Edition (32 or 64-bit). Moreover, your PC must have a processor of Intel Pentium 4 / AMD Athlon 64 processor or above, given it supports SSE3 instructions. ARM-based devices do not make the cut, unfortunately.

AVG Free can also run on multiple devices, including mobiles. It is available for free download on Windows, Mac, Android, iPhone, and iPad. It is noteworthy that there are separate plans for different devices, with requirements and available features also varying accordingly. This review narrows its focus down to the AVG Free Antivirus for Windows, so you may want to take a keener look at the specifics for other devices on the AVG website if need be. 
You should also remember that this antivirus is free, so it follows that there are paid versions of the protection suite with extra features. Each version has different perks, with some suited to some purposes than others.
Security Features of the Product
Moving along, our next area of focus would be AVG Free Antivirus' security features. In terms of how much protection it offers, AVG Free's watchword is taking the simple things and doing them excellently. In other words, it affords your computer the most basic protection available, albeit in an imperious manner. We will be considering them in this section.
Computer Protection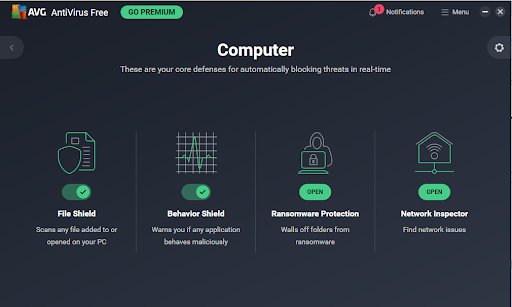 This is what the offline retinue of system defenders AVG Free Antivirus offers against basic viruses, Trojans, and other malware potentially domiciled in your PC. It consists multiple features to block and eliminate threats in real time, some of which include:
File Shield:

The File Shield is designed to conduct a comprehensive scan of any and every file you add to or open on your PC. This ensures that you easily and instantly detect corrupt files that you may have imported into your computer before they can do much damage.

Behavior Shield:

The Behavior Shield is the tool that monitors the applications and software on your PC to detect any malicious activity. This can be especially critical in protecting against spyware and similar malware.

Ransomware Protection:

Ransomware Protection is adept at specialized protection of certain folders and file destinations against ransomware and untrusted applications that may want to alter or hold them hostage. This feature allows you to select sensitive folders to be protected, ranging from photos and videos to music and documents.

Network Inspector:

This feature is a real asset for you if you happen to be on a public network. The Network Inspector scans your network for vulnerabilities and threats, such as middleman infiltration attempts. It downloads the networks information, such as the IP address and location, while affording the get notified of new connections to your network and monitor existing connections.
Web and Email Protection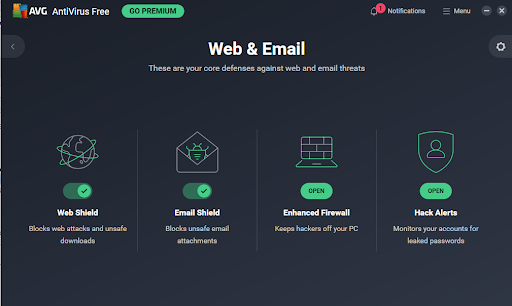 The security AVG Free Antivirus offers is not relegated to offline activities. It also incorporates a robust protection against threats you may encounter from your activities on the web and via email. It is considered a bit limited due to the fact that one of its four tools, the Enhanced Firewall, is unavailable unless you install it separately in-app, but it comes at no extra cost nonetheless. The suite's online features for web and email protection include:
Web Shield:

The Web Shield is a tool that effectively scans your downloads for malware and provides a layer of security against attacks from web pages. This tool is instrumental in keeping corrupt and damaged files from infiltrating your PC, as well as screening out untrusted web sources.

Email Shield:

This feature operates like the Web Shield, but for your emails instead. The email shield is the tool that helps to prevent attacks originating from your mailbox by blocking unsafe email attachments, especially from untrusted and spam mails.

Enhanced Firewall:

The Enhanced Firewall is a state-of-the-art security feature that shields the activity on your computer from unwelcome eyes. It enacts a thorough protective layer between your PC data and blocked apps and networks, making it almost impossible for hackers to gain access through third-party applications and networks. The Enhanced Firewall boasts other features, such as Port Scan Alerts and ARP Spoofing Alerts, but these extra features are only available on a paid AVG subscription.

Hack Alerts:

Hack Alerts is a cool feature specially developed to counter password leaks. It involves linking your email to your AVG account, and in turn, all your accounts linked to that email address get monitored 24 hours a day, 7 days a week. In the event a hack occurs on one of the websites you use and your password is compromised, AVG Free detects it and alerts you immediately. You can then choose to close the account or reset the password before any damage can be done.
Installation and Ease of Use
If you are interested in installing AVG Free Antivirus on your PC, or any device for that matter, head right on to the AVG official website and choose whichever device you want to go for (PC, Mac, or Mobile). A fine plus is that you do not need to create an AVG account before having access to the installation package. Simply click on "Free Download", and follow the installation process.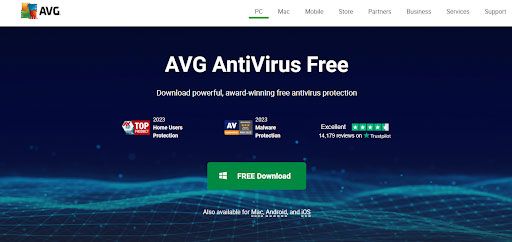 It is a very quick one, usually taking about 5 minutes or less. Once the package is fully installed, the software quickly runs you through the basics and you are ready for your first scan.
The user interface incorporates the classic dark and bright green theme, posting an aesthetically pleasing yet user-friendly interface. You can easily access most of the basic features from the home page, with an animated interface also helping to bed users in with pointers on each feature. This makes it easy on the eye and even easier in usability for the average user. The user interface is a balanced one that would appeal to the tech savvy without functioning to the exclusion of new and average users.
Recall when we said earlier that AVG has now been optimized to update automatically. The software is designed to conduct checks every two hours for updates to the virus definitions, as well as the antivirus software itself. You can change the settings if you wish, opting to update manually or receiving a reminder every time an update is available.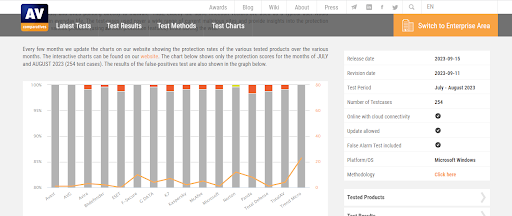 Performance
Understanding the level at which AVG Free Antivirus can perform is crucial to reaching a verdict as to its viability as a competent antivirus choice. True to the thoroughness of functionality that we advocate, we have considered the performance of AVG Free with a measure of 2-factor authentication of our own. First is a hands-on test of the antivirus' capabilities with our system, which is then followed by the scrutiny of third-party tests conducted by reputable testing agencies – particularly AV-Test.org and AV-Comparatives.org. 
The test conducted a thorough scan for viruses and malicious software, as well as advanced threat openings through a myriad of files, breezing through at an average of about 2 minutes. The scan looked out for an impressive catalog of threats on the PC. It displayed particular proficiency at getting past some rather unconventional yet safe files without recording any false positives. It went further to identify a number of potential openings for advanced threats, although it reserved the fixing for subscribers to the paid AVG antivirus. No system lags or malfunctions were recorded during testing.
The plaudits continued at the third-party level, with AV-Comparatives' real-world protection test for July-August 2023 giving it a 99.5% success rating, a figure above the industry average of 99.4%.
It enjoyed similar success during the AV-Test.org's testing for June 2023, recording the maximum 6 marks in protection, performance, and usability.
Pricing and Structure
We do not expect you would worry about the pricing of AVG Free Antivirus. As the name implies, it is totally free of charge. This offers you the opportunity to deploy malware protection of the highest quality on your computer, most of which you would have to pay a premium for on many other brands. These features are usually more than enough to secure your devices to a reasonably safe degree.
However, you may be on the prowl for even more, and that is fine. AVG has got you covered there too, with the AVG Internet Security and AVG Ultimate subscription packages. In addition to the protection offered by AVG Free, Internet Security offers the full extent of the Enhanced Firewall feature, Link Scanner, TurboScan, Toolbar Remover, Hack Alert, and Webcam Protection, amongst others, all for $6.50 monthly and $77.99 annually. If you want to have these features available on up to 10 devices, it can be made possible at a charge of $8.33 monthly and $99.99 annually.
The AVG Ultimate Antivirus offers you the fullness of AVG's protection suite, including AVG TuneUp, AVG Secure VPN, and AVG AntiTrack, all on 10 devices for $10.83 monthly and $129.99 annually. It is worthy of note that these prices indicated are the original prices, and you are likely to get a discount on your first purchase.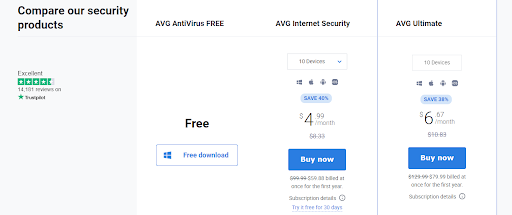 Verdict
What's Good about It?
To begin with, AVG Free offers protection of the highest standard, with an evolving dictionary of malware due to automatic updates to the antivirus. The software's activities have little to no effect on the PC's functionality, and you have many custom options, such as when to update and how you want to receive notifications. Ultimately, it takes minimal fuss and even less money, facts enough to leave you and your PC smiling.
What's Not So Good about It?
The shortcomings of AVG Free are apparent from what we have considered so far. The service has no VPN feature at all, and many other features, such as protection against hacker attacks, are relegated to paid services only. Moreover, the paid subscriptions come at a relatively higher charge than many other competing antivirus services.
Should You Buy AVG Free Antivirus?
The best part about AVG Free is that you do not need to, considering that it is free. However, if you are looking for more, you may want to look towards AVG Internet Security and AVG Ultimate.
What Are the Alternatives to Consider?
Outside of AVG Free, Avast, F-Secure, Bitdefender, and Norton all boast similar performance ratings on AV-Comparatives.org. Avast and Bitdefender have some equally impressive free options too.
Check out other Antivirus Reviews
Trending Cybersecurity Reads