Avira Free Antivirus Review
Ranked #5 out of 14 Antivirus
The digital landscape is filled with threats, making a reliable antivirus solution a must for every device. Avira Free Antivirus, a product from the German cybersecurity company Avira Operations GmbH & Co. KG, is one such tool that promises effective protection without reaching into your pocket. 
Our detailed review aims to provide an in-depth understanding of the free version of Avira antivirus software. We'll cover aspects like its features, ease of use, performance, and how it stands against competitors.
| | |
| --- | --- |
| 🐞 Malware detection rate | 100% |
| ⚔️ Advanced threat protection | Yes |
| 🔥 Firewall | No |
| 🌐 VPN | No |
| Free Version | Yes |
| 💵 Pricing | Free |
| 💻 Operating Systems | Windows, Mac, Android, iOS |
Pros and Cons
Pros
Outstanding malware protection.

Intuitive and user-friendly interface.

Light impact on system resources.

Regular updates for ongoing protection.

Additional security tools in the free version.
Cons
Frequent upsell prompts and ads.

Certain features reserved for the paid version.

Full system scans tend to be slow.
Introduction
Established in 2006, Avira Operations GmbH & Co. KG, widely known as Avira, is a globally respected cybersecurity firm. The company offers a wide range of security products for different platforms, focusing on providing robust antivirus software, internet security, privacy tools, and performance boosters for computers, smartphones, servers, and networks.
Among its product line, Avira Free Antivirus stands out, having garnered commendations from millions of users worldwide for its robust protection mechanisms and user-friendly interface.
Security Features of the Product
Avira Free Antivirus surpasses the conventional expectations from a basic antivirus software by a mile. It provides real-time protection against an extensive range of malware, including viruses, worms, Trojans, ransomware, and more.
One unique component of Avira is its PUA Shield. This shield actively identifies potentially unwanted applications (PUAs) that often conceal themselves within legitimate software. In an era where hidden software bundling has become a standard practice, such a feature adds immense value to Avira's offering.
Additionally, the product includes an effective anti-phishing module to safeguard you from deceptive attacks and harmful websites. It also enhances your browsing experience through Avira's Browser Safety extension available for Chrome and Firefox. This extension not only blocks known malicious websites but also resists tracking cookies and intrusive ads.
However, the free version of Avira lacks certain advanced features. Elements such as a dedicated firewall, a VPN for secure browsing, and an automatic software updater are accessible only in the paid version.
Installation and Ease of Use
Installing Avira Free Antivirus is quite uncomplicated, albeit not the quickest due to the sizable installation package. However, it isn't overly long-drawn either, making it manageable for most users.
Avira's user interface is a fusion of modern design and intuitive navigation. The dashboard is easy to navigate, and settings are manageable, simplifying the task for average users. Each feature is clearly labeled and logically arranged, making it easy to comprehend and use.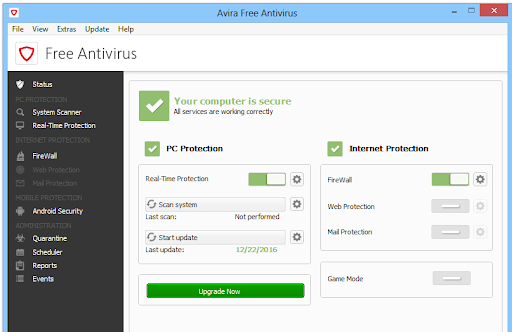 An important aspect of Avira is its commitment to keeping its virus definitions and software updated. Regular updates ensure that you have the most recent protection against emerging threats. While these updates can occasionally slow down the system, they generally exert minimal impact on system performance, allowing you to continue your activities undisturbed.
Performance
In terms of performance, Avira Free Antivirus is impressive. Quick scans are performed swiftly and efficiently, minimizing the drain on system resources. However, the speed for full system scans is a tad slow compared to some other antivirus software in the market.
On the brighter side, Avira has consistently scored high in third-party lab tests. It regularly achieves excellent scores in the examinations carried out by reputable entities such as AV-Test.org and AV-Comparatives.org. This external validation of its robust protection capability makes Avira a trustworthy choice for safeguarding against malware.
Performance with VPN Activity
Virtual Private Networks (VPNs) are widely used today to maintain online privacy and bypass regional restrictions. However, antivirus software can sometimes interfere with VPN connections due to their enhanced security protocols. For the most part, Avira Free Antivirus is VPN-friendly.
During our testing, we found that Avira Free Antivirus did not impact the VPN connection speed or stability significantly. Even when the antivirus software was conducting real-time scans or updates, the VPN connection remained stable and reliable. This seamless compatibility is a testament to Avira's well-designed software that can distinguish between genuine threats and secure, encrypted VPN traffic.
However, it's essential to note that Avira Free Antivirus does not come with an integrated VPN. This means that if you're using a VPN, it'll likely be a third-party service. As a result, the actual VPN performance (such as connection speed and stability) would largely depend on the quality and reliability of the chosen VPN service.
If you're looking for an integrated solution, Avira does offer a VPN in its paid version – Avira Phantom VPN. With the paid version, you can enjoy seamless integration and compatibility between the antivirus and VPN functions, resulting in enhanced convenience and potentially better performance.
That said, even without the integrated VPN, the free version of Avira Antivirus does not pose any significant obstacles to VPN usage. If you rely heavily on VPN connections for your online activities, you'll appreciate the way Avira Free Antivirus handles VPN activity – it provides robust protection without compromising the VPN performance. As always, for best results, it's recommended to pair Avira with a reliable and high-quality VPN service.
What we liked about Avira Free Antivirus
Top-Tier Malware Protection
The primary goal of any antivirus software is to provide sturdy protection against a wide variety of online threats. Avira Free Antivirus excels in this aspect. The software is engineered with a powerful and sophisticated detection engine that constantly monitors for any signs of malicious activities. 
It can successfully detect and neutralize threats ranging from traditional viruses to the latest ransomware. Avira's reliable protection against malware is consistently validated by the high scores it secures in independent testing by well-regarded entities like AV-Test.org and AV-Comparatives.org.
Intuitive User Interface: 
The user interface of any software plays a crucial role in shaping the user experience. Avira Free Antivirus interface combines modern design with simplicity. The dashboard is easy to navigate, even for those with minimal technical knowledge, and settings are clearly labeled and logically arranged. This simplicity allows users to access and utilize the full potential of the antivirus software without any undue complexity.
Light System Impact: 
Many antivirus software can be resource-intensive, leading to a noticeable slowdown in system performance. However, Avira Free Antivirus stands out due to its minimal impact on system resources. Even during full system scans, it manages to minimize the impact on system performance, allowing you to continue your regular computing tasks without significant slowdowns. This efficient utilization of resources is a substantial advantage, particularly for users with older or less powerful systems.
Regular Updates: 
Avira is diligent about keeping its virus definitions and software updated. Regular updates mean that users are equipped with the most recent protection against emerging threats. This continual commitment to staying up-to-date not only helps keep your system secure from the latest threats but also enhances the overall performance of the software over time.
Additional Security Tools: 
Avira Free Antivirus is not just a basic antivirus software but a comprehensive security solution. Its offering extends beyond just malware protection. For example, the integrated PUA Shield helps identify and isolate potentially unwanted applications that might be hiding within legitimate software. 
Similarly, the software's anti-phishing tools work effectively to protect you from deceptive websites. Furthermore, the Browser Safety extension available for Chrome and Firefox bolsters your online security by blocking harmful websites, preventing tracking cookies, and resisting intrusive ads.
What we did not like about Avira Free Antivirus
Frequent Upsell Efforts: 
One of the most common complaints about Avira Free Antivirus is the frequency of its upsell attempts. As users navigate through the software, they're often presented with prompts urging them to upgrade to Avira's paid offerings. These upsell efforts can become particularly annoying during extended use. While this is a common business model for free antivirus software, the frequency and persistence of these upsell prompts in Avira's case can feel overwhelming.
Limited Advanced Features: 
Although Avira Free Antivirus packs a lot of value in its free version, it lacks certain advanced features that are often available in paid antivirus solutions. For instance, the free version does not include a dedicated firewall, a VPN for secure browsing, or an automatic software updater. These features can significantly enhance your security posture, but you'll have to upgrade to Avira Antivirus Pro to get them.
Full System Scan Duration: 
While quick scans with Avira Free Antivirus are fast and efficient, the software falls short when it comes to the duration of full system scans. Compared to some of its competitors, Avira's full system scans can be relatively slow. While this isn't a deal-breaker for many, it could potentially delay your work, particularly if you are running a full system scan for the first time or after a long gap.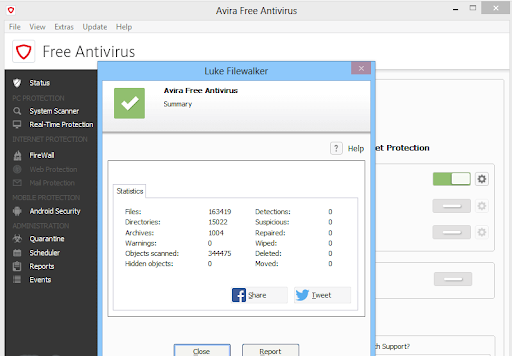 Advertisements: 
Alongside the upsell efforts, another minor gripe that users have with Avira Free Antivirus is the frequency of advertisements. As a free product, the software is sustained by advertising revenue. Consequently, users often encounter ads promoting various products and services. While the ads are generally non-intrusive, they may still cause some annoyance to users who prefer an ad-free experience.
Limited Customer Support: 
With Avira Free Antivirus, customer support is somewhat limited. The free version users primarily have to rely on Avira's online resources for troubleshooting. While these resources are comprehensive and can resolve most common issues, direct customer support through channels like phone or live chat is available only for the paid version. Therefore, users requiring immediate or personalized assistance might find this limitation a bit challenging.
Overall, Avira Free Antivirus offers a solid array of features and reliable protection that make it an excellent choice for a free antivirus solution. However, users should be aware of its limitations, particularly if they require advanced features or premium customer support.
Pricing Structure
As the name suggests, Avira Free Antivirus is a cost-free solution. Nevertheless, Avira provides a paid version, Avira Antivirus Pro, for users looking for more advanced features. The paid version introduces elements such as a VPN, automatic software updater, and a more comprehensive web protection mechanism. Additionally, it eradicates the frequent ads and upsell attempts that the free version users have to endure.
Avira Antivirus Pro comes at a competitive price, offering different pricing structures for single and multiple users, thereby catering to various customer needs.
At the time of writing, Avira Antivirus Pro's pricing is as follows:
For a single device, Avira Antivirus Pro costs $26.99 per year.
For up to 5 devices, the price increases to $59.99 per year.
Each of these plans offers a host of additional features over the free version, such as an integrated firewall, an automatic software updater, a VPN (Avira Phantom VPN), and premium customer support, which includes 24/7 priority access to customer service. It's worth noting that Avira often runs promotions or discounts, especially for new customers or multi-year subscriptions. Therefore, it's recommended to check Avira's website or authorized resellers for the most up-to-date and competitive prices. 
It's also important to note that Avira Antivirus Pro comes with a 30-day money-back guarantee. This means that if you're not satisfied with the product, you can request a full refund within 30 days of purchase. This refund policy significantly reduces the risk of trying out the premium version and provides customers with additional peace of mind.
When deciding whether to upgrade to Avira Antivirus Pro, it's essential to consider your specific needs. The free version provides robust antivirus protection and is sufficient for many users. However, if you require more advanced features or have multiple devices to protect, Avira Antivirus Pro's pricing structure offers reasonable value for the additional coverage and features it provides.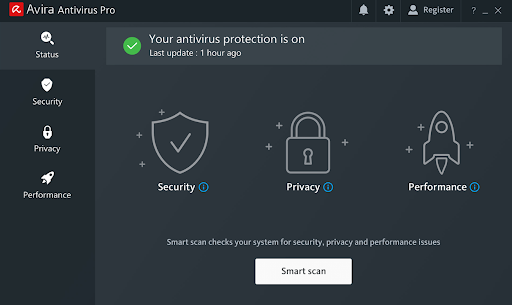 Rating Explained
Our review of Avira Free Antivirus lands it with an 8.5 out of 10 rating. This is a product of a comprehensive evaluation process that involves a close examination of several critical aspects of the software. The most important consideration when rating antivirus software is, undeniably, its performance in detecting and neutralizing threats. Avira's prowess in this domain is well-documented, with consistently high scores in tests conducted by independent third-party labs. 
Its robust real-time protection against various malware was impressive. Furthermore, the addition of the PUA Shield added to Avira's merit. Avira's user-friendly interface also contributed positively to the rating. The ease with which users can navigate through the software, access its features, and adjust settings adds a lot to the overall user experience. The combination of modern design aesthetics with a logically structured interface meant that both tech-savvy and non-tech-savvy users could comfortably use Avira.
The software's efficient use of system resources also helped its case. Antivirus software that significantly slows down the system's performance can cause frustration and inconvenience to the user. However, Avira manages to perform its duties efficiently, causing minimal system slowdown, even during full system scans. This light impact on system resources makes it suitable for a wide range of users, including those with older or less powerful devices.
The frequency and consistency of Avira's updates were another positive aspect. Regular updates ensure that the software is equipped to protect against the latest threats. Avira's commitment to staying current with its virus definitions is commendable and contributes to the overall trustworthiness of the software.
However, there were a few areas where Avira Free fell short, which is reflected in the points deducted from the perfect score. The primary issue is the persistent upsell attempts and advertisements. While it is understandable for a free product to monetize through advertising and promote its paid version, the frequency of these prompts can sometimes disrupt the user experience. Users seeking a completely interruption-free experience might find this aspect bothersome.
The absence of certain advanced features in the free version also resulted in a deduction. While Avira Free Antivirus offers a broad range of functionalities, features like a dedicated firewall, a VPN, and an automatic software updater are reserved for the paid version. If these features were included in the free version, it would undoubtedly make Avira a more comprehensive security solution.
The longer duration of full system scans compared to some competitors also resulted in a slight deduction. Although this isn't a major issue for most users, quicker full system scans would enhance the user experience, especially for those who need to conduct these scans regularly. Lastly, the limited customer support for the free version was a minor drawback. Users with complex or unique issues might require immediate assistance, which the free version does not readily provide.
To sum up, the rating of 8.5 out of 10 for Avira Free Antivirus is a reflection of its robust protection capabilities, user-friendly interface, light system impact, and regular updates. However, the rating also takes into account the frequent upsell attempts, lack of certain advanced features in the free version, slower full system scans, and limited customer support. While these are minor drawbacks, they do slightly hinder what is otherwise a very strong offering in the free antivirus market.
Verdict
Avira Free Antivirus presents itself as a formidable tool in the cybersecurity realm, providing top-tier protection against various types of malware. Its intuitive interface and the provision of additional security tools set it apart from other free antivirus software in the market. However, it is not without its drawbacks. 
The presence of frequent ads and upselling attempts can be quite distracting for users. Also, full system scans take longer than some of its competitors. Furthermore, while the free version offers a substantial level of protection, certain advanced features are only available in the paid version.
So, is Avira Free Antivirus worth your consideration? The answer is a resounding yes, especially if you seek reliable basic protection without a price tag. However, if you need features like a VPN or automatic software updater, you may want to consider upgrading to Avira Antivirus Pro or investigating other paid antivirus solutions.
Alternatives worth considering include Bitdefender Antivirus Free Edition, which offers a minimalist design paired with potent protection, and Avast One Essential that also bundles a VPN with 5 GB weekly bandwidth along with reliable protection.
Check out other Antivirus Reviews
Trending Cybersecurity Reads