Panda Free Review
Updated Nov 7, 2023
Panda Antivirus (Free)Review
Ranked #9 out of 14 Antivirus
In the era of increased cyber security consciousness, employing valuable defense infrastructure to protect your data has gained much traction. As a matter of fact, they have become just as important as having a computer device itself. If you are interested in selecting an arsenal of security programs for your device, a fine starting point is antivirus software. 
Antiviruses are integral to keeping malware attacks at bay, preventing them from damaging or stealing your data, as well keeping system performance at optimal level. That is why you need to consider only the finest brands, preferably the more popular names, such as Panda Antivirus.
| | |
| --- | --- |
| 🐞 Malware detection rate | 98% |
| ⚔️ Advanced threat protection | Yes |
| 🔥 Firewall | No |
| 🌐 VPN | Yes(Yes) |
| Free Version | Yes |
| 💵 Pricing | NA |
| 💻 Operating Systems | Windows, Mac, Android, iOS |
Pros and Cons
Pros
High malware detection rate.
Advanced threat protection.
Free VPN available.
Dark Web Scanner available.
Wide array of subscription packages for paid options.
Cons
No firewall service available on the free version.
Expensive options for upgrading to a paid package.
Most advanced packages are often only available on one device.
VPN data capped at 150MB per day.
Product Introduction
Panda Antivirus belongs to Panda Cloud Security, one of the most extensive cyber security suites in the industry. It was developed by the Spanish cybersecurity software company, Panda Security, which was founded in 1990. With over 30 years of experience in cybersecurity software development, it is little surprise that the Panda Antivirus is one of the most highly-regarded names in the industry. While the background is sturdy as can be, is it necessarily the best for you though? Let us find out, shall we?
Panda Antivirus follows the savvy trend in the cybersecurity industry that eliminates annual updates for the antivirus program. This means you need not reinstall the antivirus when another update is out. Rather, the software is optimized to update automatically as long as you have an internet connection, ensuring that your device is protected from new and existing threats all the time. 
The minimum system specifications for Panda Antivirus are low – ridiculously so. It requires a processor of the Pentium 300MHz ilk in the least, and minimum hard disk space of 200MB. While it recommends 128MB upwards, it only requires a minimum RAM of 64MB, although that would only be sufficient to install the antivirus unit alone. An impressive feature that Panda sports is intelligent installation, which installs the security suite on your device according to your system specifications. 
The antivirus software is even designed to work with Windows 8.1, Windows 8, Windows 7 (32 and 64-bit), Windows Vista (32 and 64-bit), Windows XP (32 and 64-bit) and Windows 2000 Professional SP4. Your desktop device must have a graphics card of 256 colors, while the software is compatible with WEPOS 1.1., WEPOS Ready 2009, and Tablet PC. 
Panda Antivirus is compatible with multiple devices, including Windows, Android, iOS, and MacOS. This review focuses more on Windows PC, and specifications may differ on other devices. You should endeavor to cross-check if you are installing on one of the other devices. It is also noteworthy that we are analyzing from the free antivirus perspective here, although Panda has several subscription packages with varying prices, features, and benefits.
Security Features of the Product
Now that you know all about the Panda Antivirus software, it is time for us to get to the really good stuff. You employ Panda to do a job, and frankly, it does much more. While these are undoubtedly limited to the features available on your subscription package, you can still put your mind at rest that your simplest protections remain solid to the extent you need. Without further ado, let us consider the basic features you can expect from the Panda free antivirus.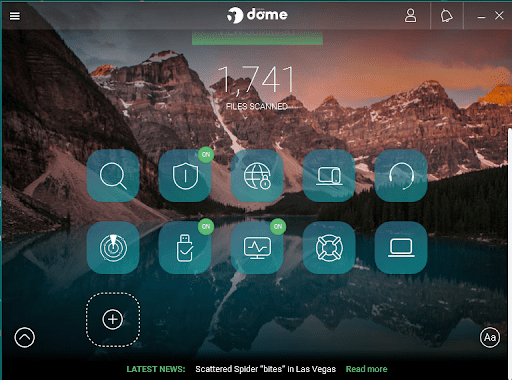 Scan
This is, perhaps, the most common feature you get from any antivirus, and Panda is no exception. The Scan feature allows the antivirus to comb through the files and programs on your laptop to find malware and corrupt files, and isolate them for you to work on. Panda avails you three kinds of scans:
Critical Scan: Critical Scan is designed to scan through the most crucial areas of your PC within a few minutes. It checks through corners such as your computer's memory, running programs, and cookies to find any active malware.

Full Scan: A full scan can take anywhere between a few minutes to several hours. This is because it scans your computer in-depth, scrutinizing every nook and cranny for active malware.

Custom Scan: A custom scan is a quick-fire tool that directs the antivirus to scan through some selected files. You can use this if you have new files or suspect existing ones have problems.
Antivirus
The antivirus is the mainstay in the Panda security suite, as the scan feature is directly linked to this section. You can schedule a scan for any time using the antivirus tool. It also contains a quarantine section, where all problematic files are sent after scanning for repairs or deletion. The antivirus also tracks your scanning data, and can generate a report if you want one. Talk about sleek.
VPN
The Virtual Private Network (VPN) is not an overly common feature on free antiviruses, and its availability on Panda goes to show the thoroughness of the security suite. It connects you to a private server at an automatically chosen location with an unlimited bandwidth. That allows you to browse anonymously and securely, without restrictions or fear of malicious actors hijacking your network and doing damage. 
Your VPN is restricted to a data limit of 150MB per day, after which you cannot successfully use the feature till the following day. If you upgrade to the Premium package though, you can get unlimited data to use daily. The package also allows you to select your preferred location from 19 different countries, and you can also use it on up to 5 devices.
Dark Web Scanner
The Dark Web Scanner is another choice tool a Panda Antivirus free subscription gets you. It works by taking note of your account credentials and passwords, and scanning the dark web to find out whether they have been leaked. With this, you can stay on top of the situation once you get notified, and take measures to ensure you do not get hacked. With Panda Premium, your dark web scanner is perpetually active, and it instantly notifies you if your information leaks.
USB Protection
The Panda USB Protection feature scans every USB drive inserted into your computer for malware and corrupt files. It can also "vaccinate" each drive, bolstering safety all the while they interact with your PC.
Process Monitor
Whether you are actively using your computer or not, there are processes constantly ongoing while it is on. These processes sometimes interact with websites in the background, and some of these sites pose a threat to your PC. Panda's Process Monitor consistently tracks these websites and blocks any that carries a threat to your computer.
Rescue Kit
The Rescue Kit is Panda's Antivirus' equivalent of a strike team. It can boot and forcefully expel viruses from a PC that has been locked down by malware, using Panda Cloud Cleaner. If you also feel like your computer has been infected with a particularly stubborn virus, the Rescue Kit can scan your computer with the Panda Cloud Cleaner, which can detect viruses that even traditional scans have missed.
Installation and Ease of Use
If you do make the decision to download Panda free antivirus, what should you expect? If you are using an Android or iOS device, you would find it easier to download from the respective app stores. For Windows, you would need to download the installation package from the official Panda Security website. Select "Free Download" and follow the installation process from there. While you need not create a Panda Security account before you download, you will be required to do so when setting up.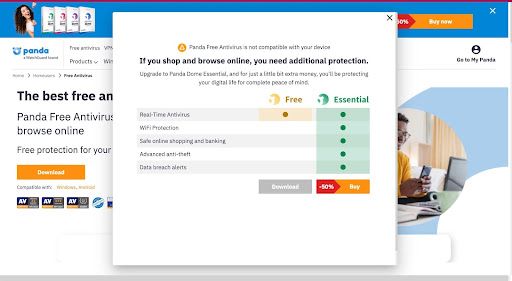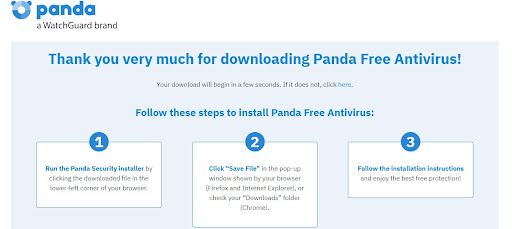 The process was not particularly fast, but not too slow either, taking over five minutes but less than ten to complete. Installing the software involved a series of actions and permissions. One of the installation files was initially quarantined as a virus itself by another antivirus, so you can expect that. After installation, you may need to create and verify your Panda account, after which you can start finding your way around the homepage.
The user interface is unique, with animated effects and a scenic background image providing some aesthetics to please the eye. The interface has a feature that shows the name of each tool for beginners, and it can be disabled if you prefer the smooth feel of widgets only. Clicking on each tool also shows descriptions of what they do, which allows amateurs to use them to the fullest. Definitively, the interface is a marriage of beauty and convenience, creating an environment for every user.
The software is also easily customizable, allowing each user to modify functionality to suit their preferences. You need not worry about updates and maintenance after installation as they are fully automated, save for monthly or annual subscription payments if you are subscribed to the paid packages.
Performance
It is one thing for an antivirus to have all the right tools, and another for it to harness their full potential when it comes down to it. That is why the next preoccupation of this review is the performance of Panda Antivirus in real time. To get the most accurate measurement of Panda's performance, we have conducted our own tests of the antivirus' functionality. It does not end there, as have also sought out third-party opinions from credible sources, such as AV-Comparatives.org and AV-Test.org.
The starting point was a critical scan to put the antivirus through its paces, with some really tricky files to boot. It scaled through relatively quickly, scanning 30,486 files in 3 minutes and recording zero false positives. The full scan took 1 hour and 31 minutes to complete, and managed to nab three Trojans that escaped the critical scan. It recorded three false positives along the way, however.
It recorded a relatively underwhelming result during AV-Comparatives.org's real-world protection test for July-August 2023, posting a 98.4% blocked rate, lower than the industry average of 99.4%.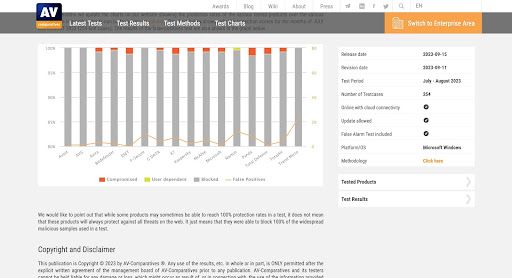 It also had eight false positives, a comparatively high number, which suggests the antivirus may not be as sharp as believed. Its fortunes with AV-Test.org are slightly better, scoring the maximum 6 points in protection, 5 in performance, and 5.5 in usability. The most recent AV-Test.org test seemed to be back in December 2018, however.
Pricing and Structure
If you happen to gain all that you want from the free version of Panda Antivirus, this section might not be of much use for you. But there will always be something more to interest you, so you might want to read through anyway. Panda free antivirus offers high-quality protection and a wide array of cybersecurity tools for your computer at absolutely no cost. For the simple computer user, Panda's "simple" is just enough.
For those seeking more, there is definitely more to be found. Panda's Essential plan starts at $23.49 for a year, coming next in order to the free version with additional features, such as the firewall.
The Advanced plan comes in at $35.24, followed by the Complete plan costing $44.24 for the year. The Premier plan offers you unlimited access to the fullness of the Panda antivirus suite, coming at $53.24. It is noteworthy that these prices may differ significantly on subsequent payments. These plans may also cost more, depending on your specifications, such as how many devices you want them on.
Verdict
What's Good about It?
It is not hard to see Panda's strong points from our review. The antivirus has an amazing retinue of services that many paid antiviruses would struggle to beat. It is incredibly user-friendly, and its activities take little to no toll on system performance.
What's Not So Good about It?
On the flip side, Panda antivirus is notorious in the industry for false positives, a fact our test also attested to. Its VPN affords a meager 150MB daily, and its full scan takes a long time to complete.
Should You Buy AVG Free Antivirus?
Panda has a free antivirus program, so you may not need to exercise the option. Is the paid version worth it? The features do look a good deal for the price. However, the shortcomings are potential deal-breakers that may push you to look elsewhere.
What Are the Alternatives to Consider?
Looking at alternatives that remedy some of Panda's shortcomings, you should be looking at the likes of Avast, AVG, Avira, or Bitdefender.
Check out other Antivirus Reviews
Trending Cybersecurity Reads