TotalAV Antivirus (Free) Review
Ranked #8 out of 14 Antivirus
If you have a house that you keep your stuff in, you want to shop for a fine quality lock to keep intruders away. For a computer user, the equivalent is getting an antivirus of the highest standard to protect your device. This is a crucial step in keeping prying eyes and menacing files at bay, and it is no longer a discussion in 2023 as to if or why you should have one. 
Rather, now the question is about which of the many antivirus software on the market you should opt for. A strong candidate is TotalAV, and this review wants to see just how strong it is.
| | |
| --- | --- |
| 🐞 Malware detection rate | 99% |
| ⚔️ Advanced threat protection | Yes |
| 🔥 Firewall | No |
| 🌐 VPN | No |
| Free Version | Yes |
| 💵 Pricing | Free |
| 💻 Operating Systems | Windows, Mac, Android, iOS |
Pros and Cons
Pros
Affordable subscription packages for paid options.
Reputable threat protection.
Top ratings in the industry.
Includes free ad-block tool.
Cons
No VPN service available on the free version.
Does not feature a firewall feature.
Free version offers no real-time antivirus protection.
Product Introduction
TotalAV is one of the foremost antivirus and cybersecurity names you would find anywhere in the world, and for good reason. It is an offshoot of Total Security, a cybersecurity company that was founded in 2016. While Total Security is much newer to the scene than many other cybersecurity giants, it has quickly acquired a reputation for developing some of the most extensive security suites, championed by TotalAV. 
Like most modern antivirus software, TotalAV sports an automatic update feature. It requests administrator rights on installation, and uses that to search and update automatically as long as there is an internet connection. This ensures that new threats are consistently added to the antivirus dictionary to keep your protection at a maximum always. You also need not worry about having to install newer versions at later dates.
Moving on to TotalAV's minimum system requirements, allow us to drop a spoiler – they are quite lofty. Not so much as to be out of reach to most, but they are relatively advanced compared to some other brands. To install the antivirus on Windows, you need to have an operating system of Microsoft Windows 7 Service Pack 1 or higher, with the newest updates, hotfixes, and service packs installed. It also requires a browser of Internet Explorer 11 or newer, and your processor must be an Intel Pentium 4 / AMD Athlon 64 Processor or faster.
Additionally, you would need a minimum RAM of 2GB or higher, and a minimum hard disk space of 1.5GB. This is to be able to successfully create storage space for temporary and quarantined files. These requirements are not to imply that TotalAV is only useable on Windows, however. There are also versions designed for Android, MacOS, and iOS, all with their respective system requirements. This review tends to focus more on Windows installation, so be sure to confirm system requirements for other devices if you intend to use the antivirus on any of them.
Security Features of the Product
TotalAV makes it into our review sphere with a big reputation, and it is time for us to see whether it is the real deal, or it just happens to be mere hype. This section seeks to understand to what extent does the antivirus offer you protection, and what kind of protection you can expect. Upon keen observation of the tools TotalAV Antivirus offers, it is easy to tell that the suite offers a wide array of choice security features. But how impressive is it really? Find out as we move along.
Malware Protection
The very first segment you would encounter when you install your TotalAV antivirus software is the Malware protection unit. This is where the main antivirus feature is, and constitutes perhaps the most crucial part of the service. This unit is delimited into three sections, each taking on an antiviral responsibility for your PC.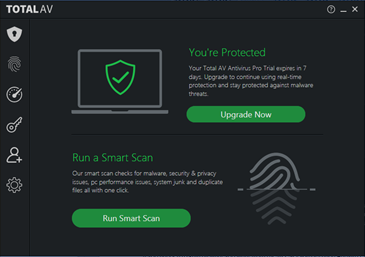 Protection Status
This department offers an overview of the state of your antivirus protection. You can access the smart scan engine from here, which scans your computer for junk files, malware, security threats, duplicate files, privacy issues, performance issues, and the likes. From here, you can also turn on real-time antivirus protection. The underwhelming part, however, is that you need a TotalAV Pro subscription, at least, to deploy this feature.
Malware Scan
This feature is specially designed to spread out the net for viruses and other malware in your computer system. It is practically the more specialized version of the smart scan engine.
Quarantine
The Quarantine area is where harmful files and other threats found in your PC are isolated and disabled. From there, you can manage what happens to these files, whether you want to permanently delete them, fix them, or restore them in case of false positives.
Internet Security
This is an increasingly common feature in most modern antiviruses. Considering the growing number of threats we encounter in the daily usage of the web, it is no wonder that special tools to keep your internet activities safe and secure are coming into the fray. TotalAV Antivirus excels in that area, having an internet security department that includes:
VPN
A Virtual Private Network is a tool that allows you to connect to a server or network of a location different from your own. This makes it possible to browse anonymously and securely without the fear of having your location and privacy compromised. TotalAV offers a VPN service that covers multiple locations, but unfortunately, the service is available if you subscribe to the TotalAV Pro package or higher.
Web Shield
The Web Shield represents one of the most impressive features of the TotalAV. It is a tool that protects your PC from suspicious websites on the web by tracking your activity. It then identifies websites that may try to steal your data or install a virus on your system, and blocks them off. You can also report suspicious websites on the tool, which would help protect you and other users subsequently.
Total Adblock
The Total Adblock is yet another excellent feature, helping you to keep intrusive ads, notifications, and popups at bay. This it does by clearing your browsing data and tracking cookies so you have a limited digital footprint that leads back to you. This makes browsing faster and more enjoyable.
Data Breach Check
This feature is designed to scour the internet to find information on your accounts. Once it finds that your login credentials or passwords have been leaked or compromised by bots or hackers, it notifies you so you can take action before any further damage is done.
System Tune Up
One of the standout features of TotalAV is the suite's functionality beyond basic protection, extending its services to system optimization. The department in charge of that is the System Tune Up section, which incorporates a myriad of tools to keep your PC at optimal performance. These include:
Junk Cleaner
The Junk Cleaner scans your computer for useless files and redundant software that unnecessarily take up disk space. This helps to free up enough memory to keep your system ticking.
Duplicate File Finder
The Duplicate File Finder does just what its name suggests. It combs through your computer to look for files that are duplicated and eating up memory space, after which you can choose which versions to keep and delete.
Application Installer
This is your one-stop shop for accessing all the application software on your computer. You can delete unwanted software straight from here, rather than go through a complex uninstallation process.
Startup Manager
This tool helps to scan your system for auto-run programs that could elongate the time it takes your computer to boot. Identify and suspend these, and you will find your PC starting up much smoother.
Browser Cleanup
The Browser Cleanup feature helps to mop up your digital footprint by removing private browsing data from all your browsers.
Password Vault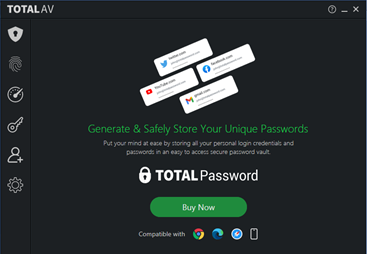 The Password Vault is the feature of TotalAV that helps you to generate and store unique passwords for your accounts and applications. This tool tickles the fancy as it houses your passwords in a location that is easily accessible to you but not to third parties. The catch is that you need to be on the TotalAV Pro subscription package and higher to be able to enjoy this feature.
Installation and Ease of Use
Your TotalAV journey begins right from the moment you make a decision to download the software. You would need to head right on to the TotalAV official website and click on "Free Download". This kick-starts the download of the .exe file that contains the installation package. Once you finish downloading the file, click on it and grant the software permission, after which installation should commence.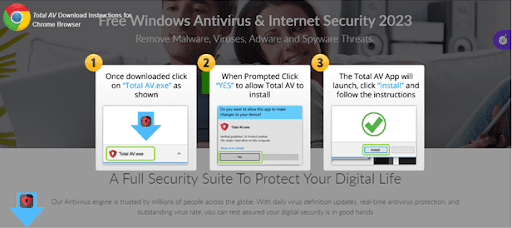 The installation process took an average amount of time – about five minutes. One of the installation requirements is that you grant the software permission to reboot your computer as soon as it is completely installed. Once the antivirus is fully installed, you would need to create a TotalAV account, after which an automatic smart scan takes place. 
The software incorporates the classic red and black theme associated with the Total Security brand, featuring dashes of green for a more colorful look. The interface is slightly animated, but it definitely takes some time getting used to. It could take a while to find your way around, and the initial stages could easily frustrate a new user. The sections come with brief descriptions, but not much more. 
In a breath of positivity, the software's performance is largely customizable. As we mentioned earlier in the review, you need not worry about going through the trouble of updating the software yourself, seeing as it gets updated regularly as long as you have an internet connection. All in all, you could say the TotalAV installation process is fairly okay, but not much more than that. As regards the ease of use, its ranking there is underwhelming, as it scored high marks in neither aesthetics nor usability.
Performance
Over the course of this review, we have been able to establish that TotalAV offers a fine retinue of services in its security suite. However, what would make the most difference is how well they come together. It is with this in mind that we curated this performance section that rates the functionality of TotalAV by testing the software first-hand. To add further weight to the results, we will be considering a second opinion from some reputable third parties – AV-Comparatives.org and AV-Test.org – to see what they have to say about the antivirus.
TotalAV performed rather woefully in our test, proving almost impossible to use. At first, we encountered issues with a basic function such as creating a TotalAV account, which failed during several attempts. We were finally able to create one on the TotalAV site, after which we logged in on the application software. The automatic smart scan it conducts after installation ran into a glitch and kept going on and on without successfully scanning any files. 
To make matters worse, there seemed to be no way to end the scan midway. Many of TotalAV's functions, including most of the System Tune Up tools, could not function because of the running scan. It finally stopped after the system was restarted manually, and the rest of the tests were concluded without any spectacular showings from the software.
Its fortunes were much better in third-party test results, as it posted a 98.8% blocked rate during AV-Comparatives.org's real-world protection test for July-August 2023, recording zero false positives. From AV-Test.org, it scored 5 points out of 6 in protection, 5.5 in performance, and the maximum 6 in usability.
Pricing and Structure
If versatility is what you seek, TotalAV offers you that in abundance – even without paying a penny. It offers a wide range of functions that, quite simply, make you question whether it is accurate to label it an antivirus. However, its security functions are very limited on the free package, which could lead you to find more in the paid subscriptions.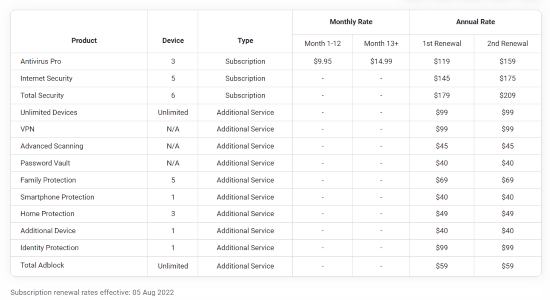 The TotalAV Antivirus Pro comes at $119 annually, the Internet Security package is $145, while the Total Security subscription costs $179. These packages come with varying benefits, and you could receive a huge discount off your first purchase. You also have the option of buying additional services rather than the entire package.
Verdict
What's Good about It?
Versatility is the watchword. This antivirus goes beyond just that, offering an all-encompassing suite that would be difficult to get elsewhere. Additionally, it seems to have a good reputation of protection among testing experts in the industry.
What's Not So Good about It?
Its performance rating was very bad during our first-hand testing, making it quite difficult to recommend. Its interface is not particularly impressive either, and it comes at a very steep price to access some of the most crucial services.
Should You Buy a TotalAV Antivirus?
Considering it comes at no extra cost to get the free version, it never hurts to do so. But it might seem a better decision to opt for a cheaper and more specialized name if it comes to it.
What Are the Alternatives to Consider?
You may look towards names like AVG, Avast, Norton, Bitdefender and McAfee as viable alternatives to TotalAV.
Check out other Antivirus Reviews
Trending Cybersecurity Reads